As a follow-up event of the Queer Film Culture: Queer Cinema and Film Festivals conference that took place in conjunction with the 25th Lesbisch Schwule Filmtage Hamburg International Queer Film Festival in October 2014, Jon Binnie and Christian Klesse at the Manchester Metropolitan University (MMU) organized the two-day symposium "Queer Film Festivals as Activism."  They invited me to give a keynote lecture at the event on 5 February 2016.
Queer Film Festivals as Activism: An International Symposium
Since the 1977 queer film festivals have proliferated across the globe and provided an opportunity for the enjoyment and popularisation of films on queer and LGBT themes that may be otherwise difficult to access in mainstream cinema. They are important events for the production of queer community. Furthermore, queer film festivals provide an alternative to a purely commercial scene providing opportunities to come together for the enjoyment of film culture and discussion. What is the role played by such festivals in nurturing visions of what a queer world could be? How important are these film festivals in articulating agendas around LGBTQ politics in different geographical and political circumstances? As new queer film festivals continue to proliferate, what needs, desires and agendas do they address? What motivates those who organise them? What roles do they play in the lives of those who attend them?
These questions and others will be addressed by this two-day international symposium at MMU. The event will bring together festival directors, programmers and academic researchers to discuss the practical, organisational, theoretical, political and cultural issues associated with queer film festivals. The symposium keynote will be presented by Dr. Skadi Loist from the University of Rostock.
Convened by Dr. Jon Binnie in the School of Science and Environment and Dr. Christian Klesse in the Department of Sociology. Since 2008, they have jointly researched the geographies of transnational geographies of LGBT and queer activism in Central and Eastern Europe. Their current research is concerned with queer film festivals as a form of cultural activism in different European cities.
PROGRAMMEFriday 5th February 2016
15.00 Introduction and welcome
Jon Binnie and Christian Klesse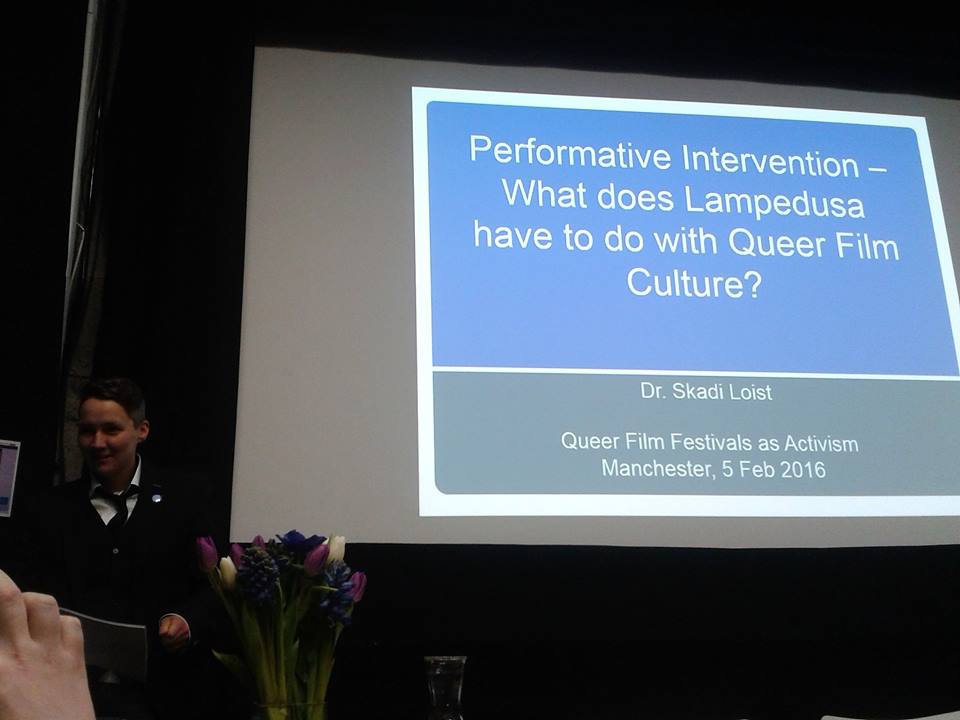 (c) Dagmar Brunow
 15:30 Keynote: Performative Intervention: What does Lampedusa have to do with Queer Film Culture?  

Skadi Loist, University of Rostock 
Twenty-five years are a considerable time-span for a queer community organization.  Thus, the 2015 opening night of the Hamburg Queer Film Festival was envisioned as a moment of proud celebration of the festival's 25th anniversary: a feature-length documentary about the festival—which will also screen in this symposium—was to be premiered, a conference on the topic of queer film culture took place and the mayor of the city was to open the festival.  However, instead of becoming a smooth glamorous night, community activists intervened and disrupted the opening.  The event and its surrounding discussions nearly sent the festival and its volunteer collective into an identity crisis.  What exactly had happened?  In a nutshell: the appearance of this local top official became the epitome of the clash of radical queer activism, neoliberal city marketing and cultural politics, that the queer film festival is positioned between.  Using this incident as an example, in this talk I will unravel the various stakeholder demands that queer community film festivals have to negotiate in order to function as platforms that champion queer film and filmmakers, remain independent and open for political and identity articulation, and at the same time, secure resources and organizational clout to stay afloat within the cultural field.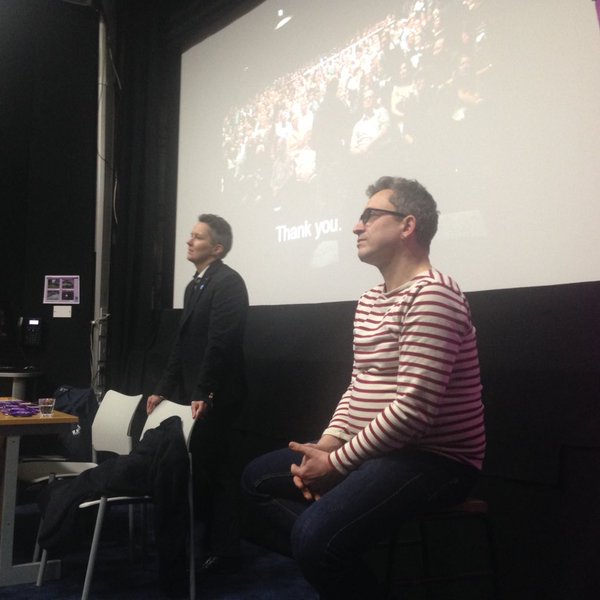 Skadi Loist after the keynote, Christian Klesse (c) SQIFF
17:30  Film Screening
'Acting Out: 25 Years of Queer Film and Community in Hamburg' (Dir. Christina Magdalinou, Silvia Torneden, Ana Grillo, Germany, 2015 85′ (in German with English subtitles)
SATURDAY 6TH FEBRUARY 2016
09.00-10.40

Panel 1
Chair: Jackie Stacey, University of Manchester
Guerrilla Warfare' and Postsocialist Cultural Politics: Beijing Queer Film Festival as Social Activism (Hongwei Bao, University of Nottingham)
This paper focuses on the Beijing Queer Film Festival, the longest running queer film festival and one of the best known forms of queer activism in the People's Republic of China since 2001. Through an analysis of the festival programming, event organisation and the 'stakeholder configurations', I discuss the 'guerrilla warfare' tactics that the organisers adopt to cope with forced closure from the Chinese government, as well as the 'postsocialist cultural politics' that the festival advocates to critically draw on the socialist legacy and to reflect upon the global 'pink economy' and transnational LGBT movement. I suggest that the Beijing Queer Film Festival is situated in the global queer film festival circuit in a post-Cold-War world, but it also keeps an ambivalently critical distance from it. By selectively drawing on the socialist forms of event organisation and social mobilisation, in tandem with innovative cultural forms and pressing contemporary agendas, the Beijing Queer Film Festival represents the 'postsocialist cultural politics', which forms an ambivalent relationship with both the socialist 'comrade' past and the transnational queer present.
The Scottish Queer International Film Festival: Mapping Local and Global Contexts  (Katharina Lindner, University of Stirling)
With a specific focus on the new Scottish Queer International Film Festival (SQIFF), this paper explores current manifestations of queer film culture and activism in Scotland. It situates SQIFF within the context of Scottish film culture more generally as well as in relation to the wider context of the (global) queer film festival circuit. It also traces SQIFF's various collaborative links with other (LGBTI) activist organisations and events.
Queer Cinema in the World (Rosalind Galt, Kings College London, and Karl Schoonover, University of Warwick)
Why think about queer cinema and world politics together? The scenario is familiar to those who follow LGBT politics: global queer cultures clash with local or regional politics. Violence at pride marches in India, Serbia, and South Africa raises questions about the compatibility of liberalism and cultural relativism, global citizenship and human rights, sexual identity and national sovereignty. At the same time, there has been a burgeoning of queer film festivals around the world. These festivals represent a significant way that sexual and gender dissidence makes itself visible in various cultures. In this talk, we do not merely count new queer cinemas as part of a globalized LGBT culture, but consider how queer cinema exhibition makes new worlds. Queer cinema has the potential to foster different accounts of the world, offering alternatives to capitalist aesthetics and social life. This talk examines how international queer film culture proposes new modes of being queer in the world.
11:00-12:40 Panel 2
Chair: Katharina Lindner, Stirling

Transnational Investments: Images of Ageing and their Reception Among LGBTQ Film Festival Audiences (Chris Perriam and Darren Waldron, both at the University of Manchester) 
We plan to present part of the outcomes of a three-year project investigating the circulation and reception of LGBTQ films between France and Spain, with a particular focus on festivals. In the project we have been considering whether and how representations from 'abroad' matter for audiences elsewhere and feed into their sense of self. This presentation focuses on the festival-based responses to representations of ageing among lesbians, gay men and bisexuals. We show how viewers claim to relate to the images and narratives in two films – Les Invisibles (Sébastien Lifshitz 2012) and 80 Egunean (Jon Garaño and Jose Mari Goenaga 2010) – and explore issues and problems around community, affiliation and identification. Many of the films we have looked at engage with aesthetic approaches and activist stances that specifically set out to trouble and undermine the traditional homogenous labels of lesbian and gay: the success or otherwise of this tactic will also be a strand to our presentation.
Transgender activist documentary at LGBTQ film festivals: Audiences and identification (Ros Murray, Queen Mary, University of London)
This paper presents the findings from an LGBTQ audience research project, seeking to question what it means when audience members claim to 'identify' with ideas or people that they see on screen. It looks specifically at the case of a transgender documentary, Girl or Boy, My Sex is Not My Gender (Valérie Mitteaux, France 2011), screened at the Festival Internacional de Cinema Gai i Lesbic in Barcelona. The paper explores how audience research can help to negotiate the sometimes difficult terrain in academia between activism and theory, showing us what a film can do, rather than simply represent, for the LGBTQ communities it engages with. Touching on issues of affect, narrative and film form, the paper returns to Thomas Waugh's claim that 'lesbian and gay documentarists must develop an independent set of ethical principles suitable to an oppositional or radical film practice'. The paper asks: what principles are relevant to oppositional film practice today, and how does this translate, or not, to contemporary film festival audiences, and in turn, to the academic research context?
Comparative Queer Methodologies and Queer Film Festival Research (Jon Binnie and Christian Klesse, both at Manchester Metropolitan University).
This paper examines the methodological issues in undertaking transnational comparative research on queer film festivals. Feminist and queer postcolonial scholars have drawn critical attention to the politics of comparison in transnational gender and sexual studies, for instance, Pedwell (2010) has examined the rhetorical and material effects of comparison i.e. what is at stake when comparisons are mobilised. In urban geography, Ward (2010) has argued that a renewed critical use of the comparative can help show how experiences and conditions in one urban context can help pose questions about, and inform urban politics in others. In this paper, we explore how a focus on the queer politics of comparison can contribute towards research on queer film festivals. The paper draws on a qualitative research project, which examined 5 queer film festivals in different European cultural geopolitical contexts as sites for the production of visibility, solidarity and queer space, as well as motors for the reproduction of networks around film production, political and educational interventions. The paper discusses the challenges in conducting comparative research in queer film festivals and considers how we might think about the queering of comparison in a grounded, empirical way.
12:40-14:00 Lunch
 14:00-16.00  Panel 3
Chair: Skadi Loist (University of Rostock)
1)    Dagmar Brunow (Lesbisch Schwule Filmtage Hamburg/International Queer Film Festival Hamburg)
2)    Alex Rumpel (Mezipatra Queer Film Festival)
3)    Andrea Inzerillo (Sicilia Queer Filmfest)
4)    Predrag Azdejkovic (Merlinka International Queer Film Festival)
5)    Noel Sutton (GAZE International LGBT Film Festival)
6)    Berwyn Rowlands (Iris Prize)
16.00-16:30 Break
 16:30-18:30 Panel 4
Chair: Andy Moor (Manchester Metropolitan University)
1)    Jayne Graham Cummings (Queer Vision Film Festival/Queer Film Network)
2)    Theresa Heath (Wotever DIY Film Festival)
3)    Nosheen Khwaja and Cloudberry MacLean (Glitch Film Festival)  
4)    Jamie Starboisky (Queer Media UK)
5)    Zane Hadi (Leeds Queer Film Festival)
6)    Siobhan Fahey (Queerchester Films North West)
7)    Jackie Stacey (Manchester Sexuality Summer School, University of Manchester) and Monica Pearl (University of Manchester)
18:30-18:45 Summing Up
Jon Binnie and Christian Klesse
 19:30-21:00 Bird on Film – Performative Talk with Bird La Bird
Fresh from numerous international successes including a residency at the National Portrait Gallery, we are intensely excited and honoured to offer this special, one off performance from Bird la Bird. Bird la Bird is "a shell-breaking performance artist who puts the camp back in communism and the fun back in feminism".  Under the streets of Manchester, a new plot against femme-invisibility is hatching! Be there to see it take flight, or miss out!
Bird on Film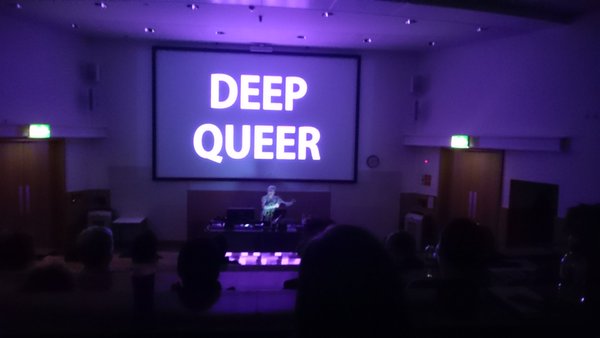 Bird la Bird on Film (c) Digital Desperados
In her usual charismatic style Bird la Bird will present a curate's egg of an event. In this performative artist's talk Bird will show examples of her work that have been influenced by cinema and TV reminiscing on the impact of queer film on her life and art. Bird will show footage of her performance alongside some of her most memorable films including Orlando by Sally Potter and Raspberry Reich by Bruce LaBruce. She will also discuss the impact lesbian and queer filmmakers such as Pratibha Parmar and Campbell X have had on her life, including how she got from sitting in the audience to being on the screen.